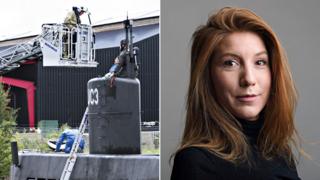 Danish prosecutors have formally charged the inventor Peter Madsen with the murder of Swedish journalist Kim Wall in August, and will seek to have him jailed for life.
Her dismembered body was found at sea after she interviewed him on board his homemade submarine.
He admits dismembering her body, but denies intentionally killing her.
Danish police are due to hold a news conference to give more details on how the case is progressing.
Her mutilated torso was found by a passing cyclist on 21 August. Her head, legs and clothing were found in weighted-down bags by police divers on 6 October.
In October, police said they were extending the charges against Mr Madsen – which already include murder and mutilating Ms Wall's body – to include sexual assault without intercourse. The inventor denies the charges against him.
Ms Wall, 30, was last seen alive on the evening of 10 August as she departed with Mr Madsen on his self-built 40-tonne submarine, UC3 Nautilus. She was researching a story about his venture.
Her boyfriend raised the alarm the next day when she did not return from the trip.
Mr Madsen's account of what happened has changed several times.
Initially, Mr Madsen said he had dropped Kim Wall off safely in Copenhagen, but the 46-year-old later changed his story to say there had been a "terrible accident", that he had "buried her at sea" and planned afterwards to take his own life by sinking his submarine.
As to the exact cause of death, Mr Madsen told police she had died when a heavy hatch on the submarine fell on her head. But he later changed this and maintained she was killed by carbon monoxide poisoning inside the submarine while he was up on deck.
After initially denying cutting up her body, he then admitted dismembering it and dumping the body parts in the sea.