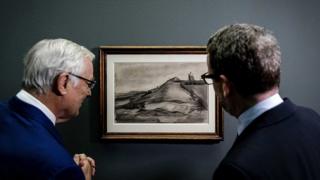 A previously unknown drawing by Dutch painter Vincent van Gogh has gone on display in the Netherlands.
The monochrome sketch called The Hill of Montmartre with Quarries dates from 1886, shortly after the artist moved to Paris.
The forgotten piece sat in a private collection for almost a century.
The drawing, alongside a second similar painting The Hill of Montmartre, was revealed on Tuesday at the Singer Laren museum, after extensive verification.
"Such a discovery is always great. It's really exceptional and does not often happen," Teio Meedendorp, senior researcher for the Amsterdam-based Van Gogh Museum, told AFP.
Mr Meedendorp believes the rare find is more aligned with Van Gogh's earlier formal style, which he developed at the art academy in Antwerp, before moving to Paris, where his work became more experimental.
Meanwhile, two undiscovered portraits by another Dutch master Govert Flinck were also unveiled for the first time at the Amsterdam Museum, after being lost in 1895.
The 17th Century paintings by Flinck, a student of Rembrandt, were hung on their owner's living room walls when he anonymously contacted the Amsterdam Museum. The owner offered them for an existing Flinck exhibition, according to Dutch newspaper Trouw (in Dutch).
The unseen Van Gogh drawing was discovered in 2013 when it was brought to the Van Gogh Museum for research, according to Mr Meedendorp. Dutch relatives of an American private collector had bought the piece from a gallery in the Netherlands in 1917. The museum, however, did not announce the discovery initially, at the request of the former owner.
"After it came in we verified that it was indeed a Van Gogh," said Mr Meedendorp, "but we were intrigued by the question of its origins."
The Van Gogh Museum's experts believe the sketch originally belonged to Johanna van Gogh-Bonger, the wife of Vincent's brother Theo, who numbered it "123" in her inventory. It was then sold in 1917.
When he brought the sketch out of its frame, Mr Meedendorf found the telltale number, "123" written on the back.