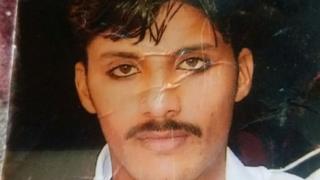 Pakistani officials say they will investigate allegations police carried out an extrajudicial killing of a man wrongly accused of murdering a child.
The allegations uncovered by BBC Newsnight focus on DNA tests suggesting the child victim was killed by the same man suspected of murdering six-year old Zainab Ansari in Kasur.
Police officers deny the claims, saying the man was shot resisting arrest.
The rape and murder of Zainab sparked outrage and protests across Pakistan.
Police working on the investigation into Zainab's murder earlier in January have discovered DNA traces matching those found in seven other attacks on young girls in the same city, including four other murders.
Among those victims apparently killed by the same man is five-year-old Iman Fatima, who was abducted and murdered in February 2017 in Kasur.
Until now, police and the victim's family thought this case had already been solved.
'Trying to escape'?
Iman Fatima had been playing outside in the street with her five-year-old cousin Adeel.
Sitting next to his father, Adeel told the BBC, "The kidnapper made me stand against the wall and took Iman Fatima away. He took her upstairs, put her in a sack and took her away."
Adeel's memory of the incident is at times vague and confused but his family say after the abduction, despite his age, he identified the house his cousin had been taken into, and later the man responsible.
The suspect was 21 year-old Mudasir, a factory worker who had moved to Kasur with his family around two years earlier.
What happened next is disputed. According to one police version Mudasir was killed resisting arrest. Another senior police officer told the BBC he was taken into custody where he confessed, and then was killed "trying to escape."
But in an exclusive interview with the BBC, Mudasir's family said they believed police killed him despite knowing he wasn't the killer because they were not able to find the real culprit.
Human rights groups have criticised police in Pakistan for carrying out what are known locally as "police encounters" – extra judicial killings that are then covered up as incidents where suspects resisted arrest.
Analysts say police often carry out "encounter killings" because of the low conviction rate in Pakistani courts.
'They killed my son'
After the discovery of Iman Fatima's body local residents began to protest against the perceived inaction by authorities. A month earlier in January 2017, another 5-year-old girl, Ayesha Asif had also been sexually assaulted and murdered.
Mudasir's mother Jamila Bibi told the BBC, "I feel as if I have lost everything. They killed my son."
The family moved out of Kasur just days afterwards, "No-one in the neighbourhood would even talk to us" Jamila Bibi added tearfully.
Mudasir's family say he was taken into custody the same evening Iman Fatima was abducted and killed. They allege they then went with police to recover his body from a local hospital.
Police officials in Kasur told the BBC that Mudasir had been positively identified as the suspect by the girl's cousin Adeel.
Speaking to the BBC, a relative of Iman Fatima said police had called him into the police station to hear Mudasir confess to the killing.
But the DNA evidence examined as part of the enquiry into Zainab's murder later suggested Mudasir was not the killer.
Following Mudasir's death in February 2017, another four young girls were attacked, including Zainab. Three of them died, one is still in hospital. Traces of the same DNA were found on their bodies as of Iman Fatima.
When presented with the allegations uncovered by the BBC, Malik Ahmad Khan, spokesman for the Punjab Government, told the BBC that authorities in the province would carry out a "full-fledged inquiry" and that those responsible for any "extrajudicial killing won't be spared."
Iman Fatima's father told the BBC, "I'm so worried – the real killer is still roaming free, and an innocent man has been killed."
"I am so angry with the police I can't explain. We want justice and we want the actual culprit caught."