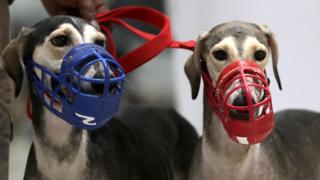 The South Korean government is to reward people who send in photos of dogs out in public without a muzzle in a bid to crack down on careless pet owners.
From March, fines are being increased five-fold for dogs spotted without a collar or muzzle, with 20 per cent of the money going to what locals are calling "dogparazzi" – a play on the word "paparazzi" – the Chosun Ilbo newspaper reports.
Dogparazzi informants will find themselves 100,000 won ($94; £67) better off should their photograph result in a fine. However, the rewards are limited – to prevent abuse of the system, the authorities will only hand out 20 per year, Chosun Ilbo says.
It's all part of new laws on dog ownership which could see particularly careless owners facing huge fines and prison sentences, Yonhap news agency reports.
The strengthened Animal Protection Act means that a fatal attack by a dog off a lead could result in up to three years in jail for the owner. The act also increases the number of breeds classified as "dangerous" from three to eight.
Celebrity case causes debate
Around one-in-five South Koreans own pets, mostly dogs, Singapore's Straits Times reports, and numbers are expected to grow as the country's ageing population seeks canine companionship.
A recent high-profile case in which a K-pop singer's dog attacked a woman who subsequently died of septic shock sparked fierce debate, resulting in the new laws, the paper said.
The fatal attack came as official figures showed that reported dog biting incidents had risen from 245 in 2011 to 1,019 in 2016.
Speaking to Yonhap at the height of the debate into pet ownership, one mother-to-be from Suwon expressed her fear of unleashed dogs.
"For young children, even small dogs can be major threats," she said, "Dogs are not just cute companions for people like me."
Reporting by Alistair Coleman, Tae-jun Kang
Next story: North Korean phone users get beauty app
Use #NewsfromElsewhere to stay up-to-date with our reports via Twitter.