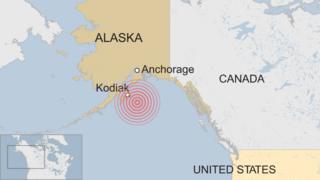 A tsunami alert has been issued after an 8.0-strength earthquake was recorded off the southern Alaskan coast in the US.
The quake struck some 300km south-east of Kodiak at a depth of 10km at 09:31 GMT, the US Geological Survey said.
The US National Weather Service said the alert was in effect for areas including California and the coasts of British Columbia and Alaska.
The alert told people to seek refuge on higher grounds in affected areas.
The NWS Pacific Tsunami Warning Center said that, based on the preliminary earthquake parameters, "widespread hazardous tsunami waves were possible".