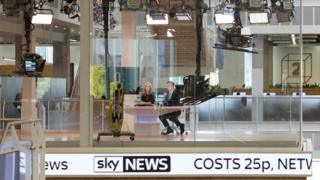 US cable TV giant Comcast has made a £22.1bn takeover bid for Sky, challenging an existing offer from 21st Century Fox.
Rupert Murdoch's 21st Century Fox had already agreed an £18.5bn deal to buy the 61% of Sky it does not already own.
Comcast said the bid of £12.50 per share was a 16% higher than the 21st Century Fox offer.
Comcast is the biggest US cable TV firm. It also owns the broadcast TV network NBC and Universal Pictures.
The company's chief executive Brian Roberts, said: "We would like to own the whole of Sky and we will be looking to acquire over 50% of the Sky shares," he said.
Mr Roberts added that the UK "is and will remain a great place to do business" and that Comcast wanted to "use Sky as a platform for our growth in Europe".
Fox's Sky bid has not been viewed favourably by the UK's competition authority, which in January provisionally found that it would not be in the public interest.
The Competition and Markets Authority is concerned that if the deal went through, the Murdoch Family Trust would have too much influence over public opinion and the political agenda.
The picture was made more complicated in December of last year when, Walt Disney agreed to buy the bulk of 21st Century Fox's business, including its 39% Sky stake.
If that acquisition goes through, it could lessen the Murdoch family's UK influence.