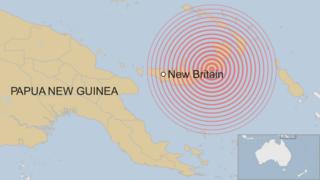 A strong magnitude 6.9 earthquake has struck off the cost of Papua New Guinea's New Britain island, the US Geological Survey (USGS) says.
Hazardous tsunami waves are forecast for some coastlines.
The quake struck at a shallow depth of 10km (six miles), around 162km from the town of Rabaul, on New Britain island.
It hit near the coast at around 07:25 on Friday (21:25 GMT on Thursday). There were no immediate reports of damage or casualties.
The country is still recovering from a magnitude 7.5 quake on 26 February.
At least 100 people died in Enga province, where massive landslides buried whole villages.
It took weeks to establish the full extent of damage in the remote, worst-affected areas.